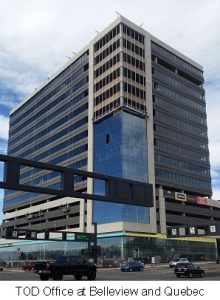 The Orchard Station Plan is based on an urban design concept known as Transit Oriented Development, or TOD. There are several key elements that TOD proponents admit are vital to a successful TOD project and one key is high-density development and another is the inclusion of mixed-use apartments and condos.
In 2016, Alberta Development Partners submitted an application to the City for a massive 3.3 million square foot development on 24 acres. This development would be two times larger than Park Meadows Mall.
After a significant negative reaction from citizens, Alberta pulled the application and has since proffered a revised plan to a group of neighborhoods with 2.8 million square feet of development. This is "only" about 250% more dense that what the current code would allow. The chart below shows a comparison of the density of these two proposals compared to other Alberta projects.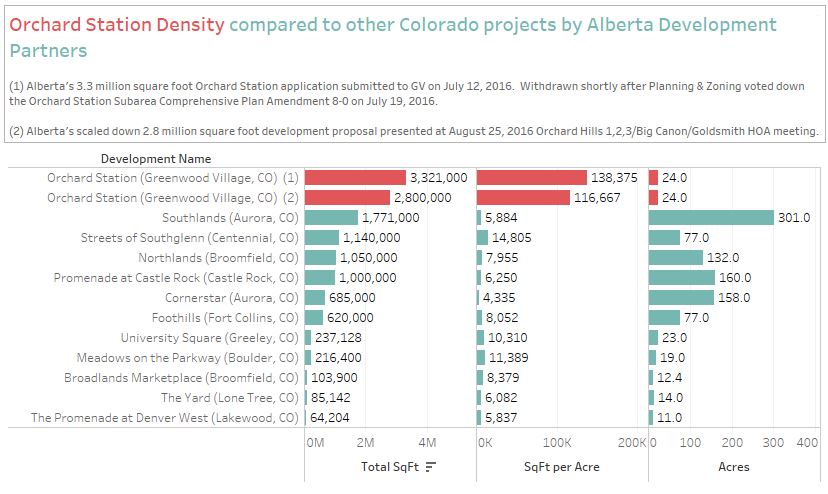 Alberta's largest development to date is Southlands mall in Aurora.  It is 1.7 million square feet on 301 acres. The Promenade at Castle Rock, which has caused significant traffic issues in that city, is 1.0 million square feet and rests on 160 acres.  The Streets of Southglenn is 1.1 million square feet on 77 acres.
For months citizen's have been told repeatedly that the Comprehensive Plan revision is not about Alberta Development's plans for the area. In fact, the proposed change to our Comprehensive Plan is a change to our vision based upon a proposal by Alberta. This process is backwards. The Comprehensive Plan should not be revised based upon a development application; the development application should be revised based upon the Comprehensive Plan.
We urge citizens to maintain the existing character and vision of the city by voting NO on the ballot issue. Residents of Greenwood Village do not want our city to become like downtown Denver.
Paid for by Save our Village Issue Committee,   Dave Kerber Treasurer