The Greenwood Village City Council has a serious  conflict of vision about the City's Comprehensive Plan.
Five Councilmembers support a vision known as Transit Oriented Development, or TOD, which includes high-density multi-family development, a key component of TOD.
Three Councilmembers and our Mayor are opposed to this vision for a variety of reasons, foremost of which is that it appears the citizens are overwhelmingly against this type of development. More than 600 people attended multiple public meetings with the clear majority voicing their opposition. Had the City Council approved the plan, the Mayor has stated that he would have vetoed the Ordinance and this issue would have died.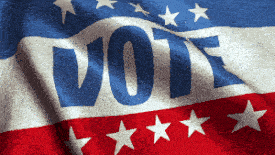 Instead, the Council decided to put this issue to a vote of the people via a referendum and we believe this is the right course and applaud the Council for doing so. The Council is asking the People to decide the Vision of our community. This referendum is also a step in restoring trust in our local government, which has been damaged by this controversy.
Mail-in ballots will be sent in mid-May and the referendum question will be decided on June 6, 2017.
Ultimately, the question that voters will be asked, is if our community should encourage high-density development and become urbanized like Denver or if it should maintain the suburban, open, and park-like feel that exists today?
A Yes vote makes us like downtown Denver. A NO vote keeps us like Greenwood Village.
We support responsible commercial development but not the irresponsible development of massive multi-family residential.
The citizens are playing the role of David and the Developer is playing the role of Goliath. David will likely be outspent 10 to 1 by Goliath.
Our group includes a former Mayor, twelve former City Council Members, three existing City Council members, four former Planning & Zoning Commissioners, two current Planning & Zoning Commissioners and THOUSANDS of voters who have stuck a "Vote No" campaign sign in their yard.
Voting NO on June 6th will send an important message to our elected officials. The Citizens own our city, NOT a Developer.
Voting NO on June 6th will preserve and defend the current character and vision that makes Greenwood Village such a special place.
Paid for by Save our Village Issue Committee,   Dave Kerber Treasurer